REMINDER:
In line with COVID-19 restrictions, the IIS team is doing a combination of working from home and coming into the office. Please don't hesitate to contact us by e-mail if you'd like set up an appointment.
If you are planning to meet with us on campus, please familiarize yourself with UPEI Health Protocols and note that, effective September 8, 2020, wearing a non-medical mask is mandatory in UPEI campus buildings.
Island Studies News
---
Annual Report on Global Islands 2019 · Virtual Launch Event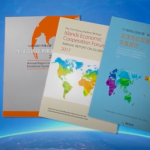 The Annual Report on Global Islands 2019 was launched at a virtual event in September 2020 hosted by the Foreign Affairs Office of Hainan Province. The launch video features interviews with a number of the authors from the 2019 Annual Report (in English), as well as presentations and commentary in Chinese with English subtitles.
READ MORE…
---
Island Lecture Series: Writing the Island with JoDee Samuelson (Virtual Event)
Tuesday, October 20, 2020 · 7:00pm-8:00pm ADT
We are delighted to announce that our annual Island Lecture Series will be hosted online for the upcoming 2020-2021 season!
Join us on October 20th for an evening with island filmmaker, artist, and author of The Cove Journal, JoDee Samuelson. Click here for more information.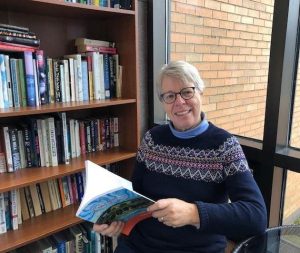 ---
Virtual Hub · Islands and COVID-19 Recovery Plans: Promoting Resilience and Sustainability (September 1, 2020)
The Institute of Island Studies was delighted to kick off a season of online programming with a Virtual Hub event discussing Islands and COVID-19 Recovery Plans: Promoting Resilience and Sustainability, hosted via Zoom on September 1st. In this virtual panel, island representatives from around the world shared lessons on how islands are demonstrating resilience as they respond to COVID-19, discussed the challenges and opportunities that communities are navigating here on Prince Edward Island.
Click here for more information and to watch the video.
---
The 21st Century Maritime Silk Road Islands Economic Global Forum Annual Report on Global Islands 2019 is now online
The Annual Report on Global Islands 2019, published by Island Studies Press in partnership with the Foreign Affairs Office of Hainan Province, was published in July 2020 and will be launched at an upcoming virtual event (to be announced). Executive Editor-in-Chief is Dr. James Randall, working with Editor Dr. Laurie Brinklow and Designer Joan Sinclair.
---
SSHRC Exchange Publication Awards
Two faculty members at the University of Prince Edward Island, Laurie Brinklow and Lori Mayne, have been awarded SSHRC Exchange Publication Awards.
Two $5,000 awards are given out annually to support the publication of manuscripts written or edited by UPEI faculty in the social sciences and humanities.
Both of these books will be published by Island Studies Press in 2021. Island Studies Press would like to congratulate the award recipients and thank the University of Prince Edward Island for supporting faculty publications.
Lori Mayne's manuscript, co-authored with Mo Duffy-Cobb, is The Chemistry of Innovation: Regis Duffy and the Story of DCL, which shares the story behind one of Prince Edward Island's most successful companies and brilliant entrepreneurs.
Laurie Brinklow's manuscript is a collection of poetry titled, My island's the house I sleep in at night. Drawn from interviews with writers, artists, and musicians from Newfoundland and Tasmania, the manuscript weaves their words with her own poetic imaginings and explores the theme of 'islandness'.
Click here for the full press release.
---
Insular knowledge: Building a community of islands through knowledge mobilization
James Randall, Laurie Brinklow, & Marlene Chapman · Click here for PDF
In January, the Canadian Commission for UNESCO put out a call to Canada's network of 27 UNESCO Chairs to contribute to a series of thought papers on Knowledge Mobilization (KMb). Jim Randall submitted a Letter of Intent to look at KMb specifically as it relates to islands, and we were one of six submissions selected. Working to a tight deadline, we carried out focus groups in the Atlantic region, the central Great Lakes region, and Canada's west coast asking questions about the ways and means island groups and organizations get research results and other information out to the general public. We wanted to find out if KMb on islands is different on islands. We found that, yes, it is, and came up with some recommendations to address the gaps.

The paper underwent a rigorous peer-review process, with input from over 50 individuals from Canada and around the globe, and the project is now complete. The process embodies the spirit of knowledge mobilization. A huge thank you goes out to those islanders who contributed to the paper.
---
Island responses to COVID-19: An update
Over the past several weeks, friends at the University of Strathclyde have been gathering information from around the world about how islands have been responding to the COVID-19 pandemic. Dr. Fransceso Sindico, Co-Director of the Strathclyde Centre for Environmental Law and Governance, along with James Ellsmoor from Island Innovation and several colleagues circulated a questionnaire as widely as possible.
We are pleased to share the latest version of the data collated by SCELG and Island Innovation on Islands and Covid-19, as well as a user-friendly guide to how islands around the world are dealing with the pandemic.
---
NEWS FROM ISLAND STUDIES PRESS
Island Studies Press books receive top awards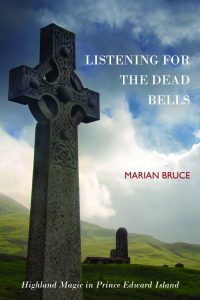 Listening for the Dead Bells by Marian Bruce received the Publication of the Year Award from the PEI Museum and Heritage Foundation at the awards ceremony at Eptek Art & Culture Centre in Summerside on Islander Day, February 17. Each year this prize is awarded to an individual or group responsible for a publication or presentation making a significant contribution to the understanding of any aspect of the heritage of Prince Edward Island. Marian's collection of folklore about ghosts, witches, seers, and forerunners aims to nurture the storytelling tradition on PEI and inspire others to collect more tales before they are forgotten. Congratulations, Marian!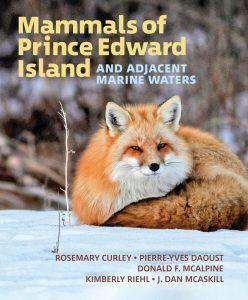 Mammals of Prince Edward Island and Adjacent Marine Mammals by Rosemary Curley, Pierre-Yves Daoust, Donald F. McAlpine, Kimberly Riehl, and J. Dan McAskill won the 2020 City of Summerside Culture and Heritage Award – Natural Heritage Activities. The award was given out at the Mayor's Annual Heritage Tea on February 21. Congratulations to Rosemary and team!
Summerside councillor Carrie Adams and Mayor Basil Stewart present the Natural Heritage Activity Award to Rosemary Curley, who headed up the research and publication of Mammals of Prince Edward Island and Adjacent Marine Waters alongside collaborators Kimberly Riehl and Pierre-Yves Daoust at City Hall on Friday, February 21. (Photo by Alison Jenkins)
Author and researcher Doug Sobey receives Award of Honour
Dr. Doug Sobey, co-author (with Earle Lockerby) of the award-winning Samuel Holland: His Work and Legacy (Island Studies Press, 2015), took home top prize at this year's PEI Museum and Heritage Foundation Awards: the prestigious Award of Honour. The award was presented in recognition of a lifetime of work studying and sharing the Island's natural and human heritage. Recognized for a long career researching the Island's Acadian Forests, Doug has had a long association with the IIS, serving for many years as a dedicated IIS Research Associate.
Click here to check out his interview with CBC Radio's Matt Rainnie on March 2.
John Cousins wins Boyde Beck Memorial Award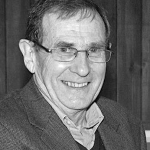 John Cousins, IIS Research Associate and author of the award-winning New London: The Lost Dream (Island Studies Press, 2016) took home the PEI Museum and Heritage Foundation's Boyde Beck Memorial Award in recognition of a lifetime of collecting, studying, and sharing folklore. A retired high school history teacher, John taught Island Folklore and Folksongs as part of UPEI's Minor in Island Studies.
---
Vital Signs report provides snapshot of the quality of life on PEI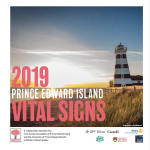 A new report from the IIS in partnership with the Community Foundation of PEI (CFPEI) provides a snapshot of the quality of life and well-being on Prince Edward Island. Vital Signs brings together publicly available research data, the analysis of subject experts, and focus group feedback from private, public, and not-for-profit sectors from different regions of the Island. The result is an easy-to-digest, comprehensive look at a wide range of interconnected topics from health to housing to education and the environment.  
To learn more and to read the report, visit islandstudies.com/vital-signs-signes-vitaux 
---
Connect with us:
To subscribe to our newsletter, send us an e-mail: iis@upei.ca
·
© 2020 Institute of Island Studies. All rights reserved.