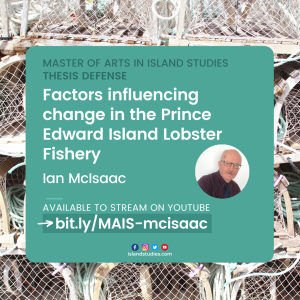 March 8, 2021 —
MAIS THESIS DEFENSE: IAN MCISAAC
Master of Arts in Island Studies student Ian McIsaac recently defended his thesis, "Factors influencing change in the Prince Edward Island Lobster Fishery" via Zoom. The session was recorded and is now available to stream on the Institute of Island Studies YouTube channel.

→ Watch now: bit.ly/MAIS-mcisaac

Background:
In 2015, the PEI Marketing Council created the Lobster Fishers of Prince Edward Island (LFPEI) Commodity Board after holding a plebiscite. Ian conducted research to better understand what factors led to the decision, and to discover if any aspect of islandness may have influenced this independent group of Island business men and women who compete with each other to catch the same fish.