Island Lecture Series: Towards Energy Sovereignty on Labrador's Remote Island of Ponds
Dr. Nick Mercer
Tuesday, January 24th, 20 · 7:00pm AST (UTC-4)
Faculty Lounge, SDU Main Building, UPEI
(Hosted by the Institute of Island Studies · January 24th, 2023)
Newfoundland and Labrador is a global leader in the development of renewable energy. However, the electricity-generation mix differs dramatically in remote and Indigenous communities throughout the province, which remain almost exclusively reliant on diesel fuel, resulting in numerous energy inequities. While sustainable energies are often promoted for these isolated villages, emerging research demonstrates detrimental socio-economic and livelihood implications which emerge when development is led by outsiders or corporate interests. The presentation will focus on an 8+ year community-based research partnership between Dr. Nick Mercer, the NunatuKavut Community Council's Department of Research, Education, and Culture, and the NunatuKavut Inuit community of Black Tickle, located on the subarctic tundra Island of Ponds, in southern Labrador. The research focuses on identifying and addressing community needs, integrating local knowledge and sustainability values, and mobilizing community-led initiatives to enhance island energy resilience.
ABOUT OUR SPEAKERS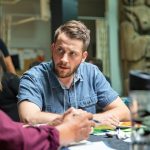 Dr. Nick Mercer is a recently appointed professor within UPEI's Master of Island Studies [Sustainable Islands Specialization] and Environmental Studies programs. Prior to joining the UPEI community, Dr. Mercer held a SSHRC Postdoctoral Research Fellowship within Dalhousie University's School for Resource and Environmental Studies. In this role, Dr. Mercer studied questions of energy justice in isolated northern communities, examining how [or if] communities have participated in energy-related decision-making, and how [or if] communities have benefitted from development. Dr. Mercer has a long research relationship with remote and island communities, having conducted almost a decade of partnership research with the Island of Ponds in Labrador, on issues ranging from participatory energy planning, to water security, to gendered dimensions of resource access. Dr. Mercer serves as one of eight appointees to the Government of Newfoundland and Labrador's Net Zero Advisory Committee and is a vocal advocate for community-led clean energy policy and practice.