The 21st Century Maritime Silk Road
Islands Economic Cooperation Forum
ANNUAL REPORT ON GLOBAL ISLANDS 2017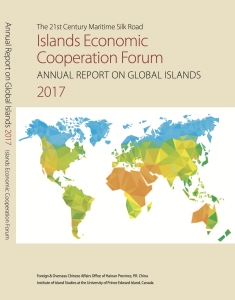 The Annual Report on Global Islands 2017, published by Island Studies Press in partnership with the Foreign and Overseas Chinese Affairs Office of Hainan Province, was launched at the Boao Island Economic Cooperation Forum in April 2018.
Executive Editor-in-Chief is Dr. James Randall, working with Editor Dr. Laurie Brinklow and Designer Joan Sinclair.
The publication provides a summary and interpretation of the 2017 Island Economic Cooperation Forum sessions, along with updated descriptions and interpretations of economic development on global islands and chapters on the major issues and topics associated with island economic development written by international experts. Earlier drafts of these chapters were presented at the 1st Annual Conference on Island Economic Change, co-ordinated by the UNESCO Chair in Island Studies and Sustainability, in Hainan in November 2017.
---
TABLE OF CONTENTS
PREFACE
Wang Sheng
DIrector General, Foreign and Overseas Chinese Affairs Office of Hainan Province
PART I: A BACKGROUND TO ISLAND ECONOMIES
Introduction and Summary of the 2017 Boao Island Economic Cooperation Forum
James Randall
University of Prince Edward Island, Canada
Chapter 1: The State of Island Economies
James Randall
University of Prince Edward Island, Canada
PART II: ISSUES AND PERSPECTIVES ON ISLAND ECONOMIES
Chapter 2: Comparing models of island economic development
Geoff Bertram
University of Wellington, New Zealand
Chapter 3: The relation between economic resilience and competitiveness in small island states
Lino Briguglio
University of Malta
Chapter 4: Autonomy plus: The policy challenges and opportunities faced by subnational (mainly island) jurisdictions
Godfrey Baldacchino
University of Malta
Chapter 5: Managing the impacts of openness on island economies
Rob Greenwood
Memorial University of Newfoundland, Newfoundland & Labrador, Canada
Chapter 6: "This is who we are": Non-self-governing islands creating a new sovereignty through five mechanisms and four drivers
Gerard Prinsen
Massey University, New Zealand
Chapter 7: Aid and sovereignty: Neostructuralism, retroliberalism, and the recasting of relationships in Oceania
John Overton and Warwick E. Murray
Victoria University of Wellington, New Zealand
Chapter 8: Agricultural development on islands
David Barker
University of the West Indies, Jamaica
CONCLUSIONS
James Randall
University of Prince Edward Island, Canada

---