Charlottetown, PEI (May 4, 2023) —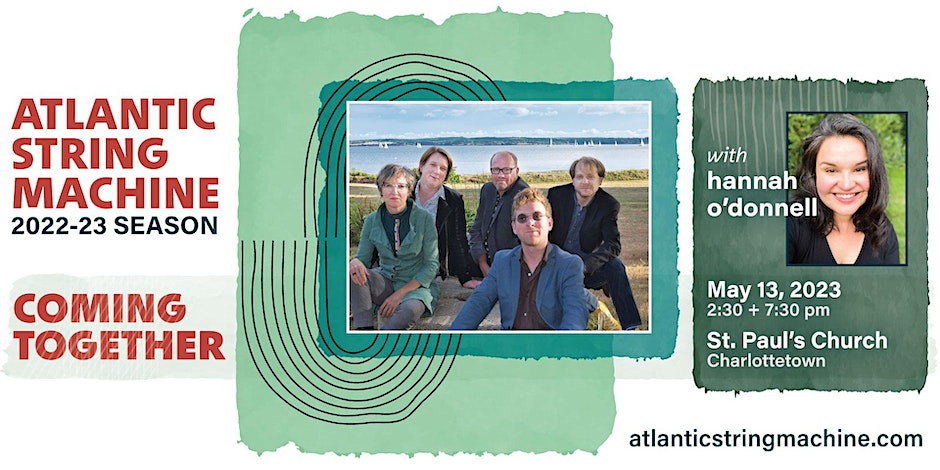 Four poems from Laurie Brinklow's PEI Book Award-winning poetry My island's the house I sleep in at night (Island Studies Press/Walleah Press) have been set to music by one of Tasmania's best-loved composers Don Kay.
Now, Prince Edward Island's award-winning string quintet, Atlantic String Machine, with guest soloist Hannah O'Donnell, will perform the song cycle's world premiere on Saturday, May 13, at 2:30 and 7:30 p.m. in Charlottetown as part of the final concert of their 2022-23 season entitled "Coming Together."
Kay and Brinklow connected when the writer's Island Studies PhD research brought her to Tasmania. As part of her program, she interviewed the composer and wrote a poem for him based on the interview. Kay then took "So it begins at Hastings Bay," plus three more of the Tasmanian poems, and created a song cycle for mezzo soprano and string quintet. Kay has composed works for opera and theatre, symphony orchestra, and choirs that have been performed around the world. In 1991, he was appointed a Member of the Order of Australia for his contribution to the arts. He is now retired from a post at the Tasmanian Conservatorium of Music.
Says Brinklow, "I'm absolutely thrilled that this island-to-island collaboration is coming to the world stage. It demonstrates the cyclical nature of art, and how inspiration works, with Don describing to me how he writes music from nature, then me putting it into words, then Don writing music based on what I wrote, then my ASM friend and Hannah interpreting his score. It's pure magic. And having Atlantic String Machine do the world premiere here is a dream come true."
Tickets can be purchased through Eventbrite, or at the door.
Media contact:
Anna MacDonald
Communications Officer
Marketing and Communications, University of Prince Edward Island
amacdonald@upei.ca | (902)-566-0949
---