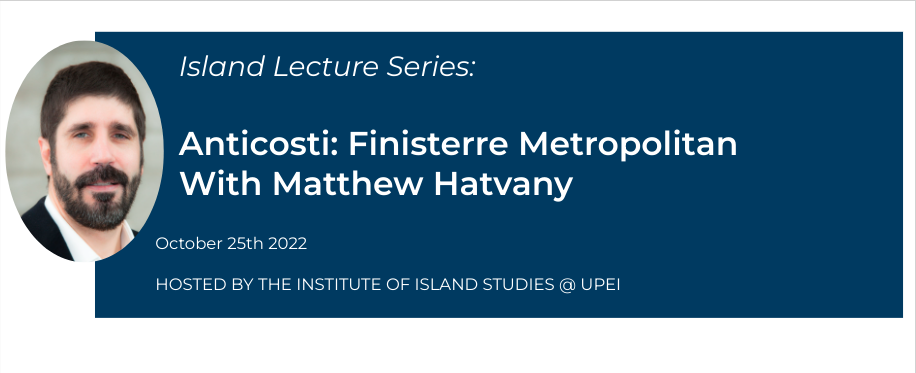 ISLAND LECTURE SERIES | OCTOBER 2022
Island Lecture Series: Anticosti: Finisterre Metropolitan with Matthew Hatvany
Dr. Matthew Hatvany
Tuesday, October 25, 2022 · 7:00pm AST (UTC-3)
Faculty Lounge, SDU Main Building, UPEI
(Hosted by the Institute of Island Studies · October 25th, 2022)
In the latest installment of the 2022 Island Lecture series, Matthew Hatvany, professor of Geography at Université Laval in Quebec City, will share his research on his current project entitled "Anticosti: Metropolitan Finisterre."

Two large islands lie at the heart of the Gulf of St. Lawrence. Despite their relative proximity and comparable sobriquets, one "Garden of the Gulf" the other "Paradise Found," the similarities end there. It is the smaller of the two, Prince Edward Island, that realised provincial autonomy through the development and control of its human, agricultural, forest, and fish resources. The larger, Anticosti, experienced little internal development despite abundant resources, being purposely constructed by external decision makers as a Finisterre Insulaire or Land's End controlled and dependent upon metropolitan decision makers and investors to assure the well-being of its small population. While Anticosti is little known in Quebec or by its nearest neighbours in Atlantic Canada, the island is celebrated by the upper classes of distant North American and European metropoles as a natural paradise as well as an aspiring UNESCO heritage site for its unique fossil and sedimentary strata.
ABOUT OUR SPEAKERS
Matthew Hatvany, professor of Geography at Université Laval in Quebec City, will be spending the fall of 2022 and spring of 2023 on sabbatical leave as an associate professor at the Institute of Island Studies at UPEI. He will be employing the theories of metropolitanism and territoriality to study the unique development of Quebec's Anticosti Island. During his sabbatical, Dr. Hatvany will be collaborating with UPEI professors Laurie Brinklow, director of the Institute of Island Studies, Josh MacFadyen, director of the GeoREACH lab, and Island scholar Edward MacDonald.