April 19, 2021—
The latest instalment of the Annual Report on Global Islands Series was released today and is now available online. This series is published by Island Studies Press in partnership with the Foreign Affairs Office of Hainan Province.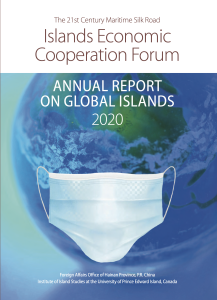 The themes of this year's Report are:
Public health on small islands
The vulnerabilities and resilience associated with the public health systems
The links to the rest of the world that both aggravate challenges and offer creative solutions.
Preface by Wang Sheng, Introduction and Conclusion by James Randall, and chapters by: James Randall & Marlene Chapman, Francesco Sindico, Robert Huish, Ilan Kelman, John N. Telesford, Huang Danying & Wang Sheng, Mathew Y.H. Wong, and Lin Heshan & Deng Yuncheng.
---
---