March 30, 2021 —
MAIS Student wins UPEI Faculty Association Master's Medal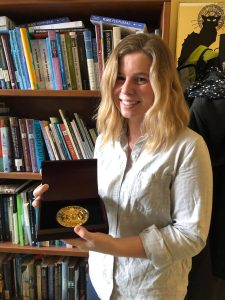 Congratulations to Master of Arts in Island Studies (MAIS) student Joyce Ferguson for winning this year's UPEI Faculty Association's Master's medal for her work on "Prince Edward Island and Renewable Energy: The Preconditions for a Sustainable Future." The thesis, with co-supervisors Drs. Jean Mitchell and Udo Krautwurst, examines the relationship between energy policy and community in her home province of PEI through a case study of the wind farm expansion controversy in eastern Kings County.
ABOUT JOYCE
Joyce Ferguson graduated from UPEI with an Honours BA in Sociology, where she was on the Dean's Honours List, and received one the Ambrose Kwok-Yau Lee Awards for 2018-19, the Roderick Stirling MacDonald Scholarship, and the Dr. Satadal Dasgupta Memorial Award. She was awarded a Future Prosperity Scholarship when she entered the MAIS program and has since received a Canada Graduate Master's Scholarship from SSHRC. Joyce and her family live in Rustico and she is the very proud mother of nine-year-old Leo.