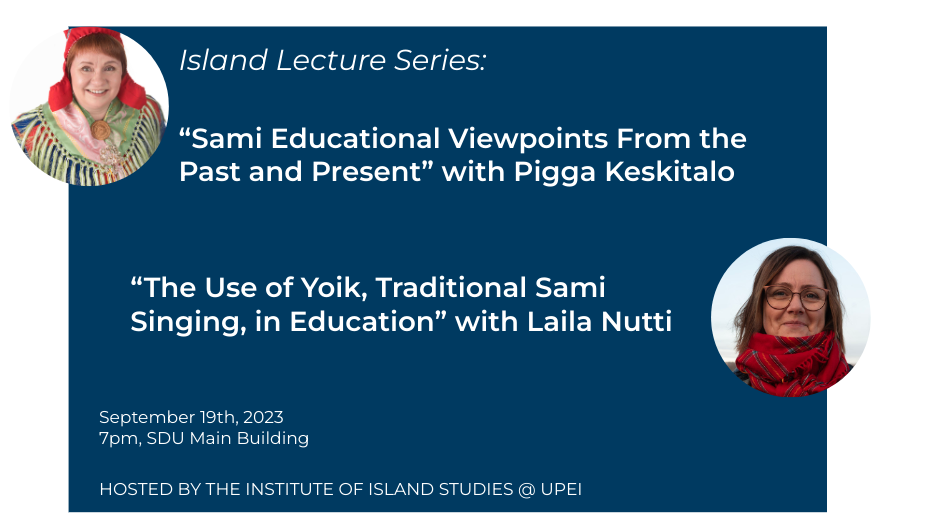 Kicking off this season's Island Lecture Series Tuesday, September 19th, are two guests who are NOT talking about islands, but rather something that resonates with islands and islanders from the North: Sami culture from Lapland.
Pigga Keskitalo will present "Sami Educational Viewpoints From the Past and Present." In this presentation, Pigga Keskitalo will review Sámi education history and current practices. Currently, there is need for innovative solutions so that everyone can reach education in their Indigenous languages. Endangered Sami languages have developed distance education since the 1990's, so that children and language learners – despite their location – can learn Sami languages. In Finland, there is a Sami language distance education project. The Academy of Finland-funded research project, ADVOST concentrated on developing this distance education in a small children's context. The research project also implemented land-based education, storytelling, and playful learning into distance education. Keskitalo will present this project and core results in addition to the new research project LINCOSY (funded by the Finnish Research Council, former Academy of Finland), which concentrates on Sami language teaching in Nordic level.
Laila Nutti will present her PhD project about pedagogical use of yoik with the title: "The Use of Yoik, Traditional Sami Singing, in Education"
Pigga Keskitalo and Laila Nutti are on Prince Edward Island as part of the ConnectED Scholar Exchange, which aims to create connections between early career scholars and researchers across the Arctic. Hosted by Dr. Kathy Snow (Education), David Varis (Education/IKERAS), and Dr. Laurie Brinklow (Island Studies), our guests will be meeting with graduate students and educators across the Island from September 18-21, 2023.
RSVP to the Facebook Event to add it to your calendar and receive reminders!
Meet the Speakers

Pigga Keskitalo
Pigga Keskitalo holds a PhD in Education and is a Professor of education, specifically in Arctic perspectives in education, at the University of Lapland, Faculty of Education, Rovaniemi, Finland. She is also an Adjunct Professor (Title of Docent) at the University of Helsinki. Keskitalo has participated in various national and international research and development projects regarding topics of socially sustainable development, education, and equity in global and Arctic communities, as well as, more specifically, in Sami education and language teaching. She has previously worked for 20 years in Norway as a teacher educator. Learn more…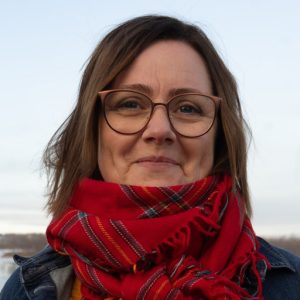 Laila Nutti
Laila Nutti is a PhD Candidate at the Sami University of Applied Sciences