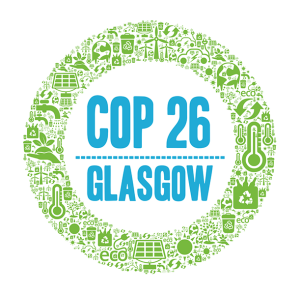 On November 11, 2021, Island Studies went to COP – virtually!
We were part of a hybrid event entitled Climate Change and Islands, hosted by the Strathclyde Centre for Environmental Law and Governance in Glasgow, along with the Institute of Island Studies at UPEI and Island Innovation.
The event, which served as the culmination of the Island Insights Series, asked the question: What lessons can we learn from the responses to COVID-19 when positioning islands to become more sustainable?
Islands in countries like Scotland have the potential of showing the way forward in promoting innovation when it comes to climate change mitigation and adaptation. The event featured presentations on Scotland and climate change, renewable energy on Scotland's islands, the effects of and legal responses to climate change on islands, and climate change from the point of view of youth and climate justice. Dr. Jim Randall, Professor Emeritus at UPEI, brought opening remarks on behalf of Island Studies at UPEI, and Dr. Laurie Brinklow, Interim Chair of the IIS, served as a discussant.
Says Dr Brinklow, "Having Island Studies and UPEI be part of the global conversation at COP26 was an opportunity not to be missed. I am proud of the work our colleagues and students have done on the COVID-19 Island Insights Series and the research we continue to do on climate change and islands. Islands are at the forefront of climate change and sea-level rise – and, like it or not, Prince Edward Island is one of those islands. If we don't want to be become three or four Prince Edward Islands, then we must continue to get our research out there and continue to ensure that our are heard."
The session recording can be found here (with the passcode kYS#ck0F).
Media contact:
Anna MacDonald
Communications Officer
Marketing and Communications, University of Prince Edward Island
amacdonald@upei.ca | (902)-566-0949
---